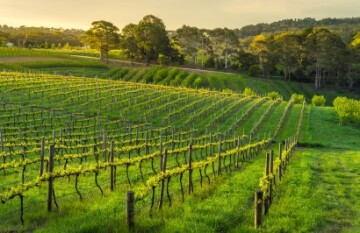 Explore Adelaide
Adelaide is South Australia's cosmopolitan coastal capital. Its ring of parkland on the River Torrens is home to acclaimed museums such as the Art Gallery of South Australia, displaying expansive collections of Indigenous art, and the South Australian Museum, devoted to natural history. The world renowned Barossa Valley and McLaren Vale wine regions are within driving distance, along with stunning beaches, national parks and riverland, making Adelaide an ideal base to experience South Australia's beauty.
The Ghan Gold Service - Adelaide to Darwin
This legendary train evokes a frontier spirit, a romantic connection to the land, and travelling on it creates a moving and unforgettable life experience. The Ghan celebrates outback adventure, with its legend stemming from the 1930s when the first Afghan cameleers arrived in Australia. On that momentous journey, the train was dubbed 'The Afghan Express' and then shortened to the legend it is today, 'The Ghan'.
Today you can become part of this celebrated history, following in the tracks of those pioneers as you journey through Australia's red heart. Regarded as one of the world's greatest rail journeys, The Ghan delivers so much more than an extended train ride. It promises access to parts of Australia no other holiday can come close to – the perfect balance of comfort and adventure culminating in an experience that will move you in every sense of the word.
Note: Throughout the course of your journey, there are a range off-train experiences at Katherine, Alice Springs and Coober Pedy. Preferences can be requested on booking, although not confirmed until onboard. It is best to indicate to your sales consultant as early as you can which experiences you would prefer to join. Alternatively, if you wish to upgrade your off-train experiences, these can be confirmed at the time of booking. Please ask your consultant which upgraded experiences are available to you.
The Ghan Northbound Day 1
Departing Adelaide this afternoon, begin your journey through rugged and breathtaking vistas of the South Australian desert. Enjoy lunch in the dining carriage, and as the cityscape gives way to rolling farmland, you'll witness some of the oldest rock formations in the world, the Flinders Ranges, come into view. Sit back and relax as the landscapes morph and the colours change as darkness falls. Indulge in a three course dinner of regionally inspired produce and, of course, fine local wines before retiring for the evening in your cabin.