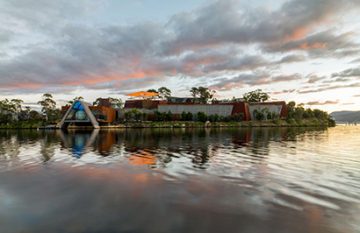 Choose your style of rental vehicle
Our rental car range includes the latest vehicles from the top suppliers. From economy hatchbacks to SUVs, we can help you decide on a car suitable for this leg of your trip. Insurance can often be included with a small excess or deductible.
Explore Hobart
Hobart is Australia's second-oldest state capital, founded in 1804. This city is teeming with inspired art and thriving markets has an exciting and dynamic food scene, and is surrounded by natural beauty. Head to MONA (Museum of Old and New Art) to get your art fix or if you're there on a weekend, head to Salamanca to immerse yourself in the markets, home to more than 300 stalls selling arts, crafts, homewares and produce. The beautiful sandstone warehouses that were once frequented by sailors, whalers, and workmen have morphed into one of the city's most vibrant cultural scenes.
If you fancy a taste of some local beverages, consider heading to one of the local distilleries or breweries. For some of the best views of the city, take a 30 minute drive out to Mount Wellington, which is even more amazing at sunset. With a coffee caravan and Australia's oldest brewery along the way up, it is the perfect activity no matter what the time of day! For those looking for a bit more activity, there are some fantastic walking tracks located below the summit at The Springs.
Mona Museum of Old and New Art
Mona, the Museum of Old and New Art, is Australia's largest privately-owned gallery and museum. Showcasing the diverse collection of its owner, Tasmanian gambler and maths nerd David Walsh, Mona exhibits everything from ancient Egyptian funerary objects and modernist masterpieces to a word waterfall and a machine that mimics the human digestive system. The Mona site—perched on the banks of the River Derwent, not far from Hobart—is also home to the Moorilla Winery, The Source restaurant, a bunch of other bars and restaurants, luxury accommodation pavilions, and
Tasmania's biggest craft brewery (Moo Brew). The best way to visit is to jump on a Mona Roma fast ferry from Hobart's city centre—just look for a giant camouflaged catamaran with fibreglass animals for seats.
SUGGESTED ACTIVITY - Whiskey Tour with Drink Tasmania
In this exclusive tour, you will sample the finest local whisky, meet the distillers, get behind the scenes, and taste spirit direct from the stills and the cask. Join the team at Drink Tasmania for an incredible day visiting the estates, touring the distilleries, and tasting the finest whisky Tasmania has to offer.
SUGGESTED ACTIVITY - Bonorong Wildlife Sanctuary Night Tour
The Bonorong Night Tour is a group feeding tour with a guide just for your group. Group sizes are kept small to ensure you have plenty of opportunities to interact with the critters. You will enter the animals' world and experience hand-feeding weird and wonderful creatures like eastern quolls, tawny frogmouths and ringtail possum and of course, feed our Tassie devils some tasty snacks.