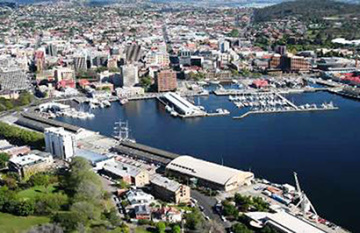 Port Arthur to Hobart
Farewelling Port Arthur you will head north along the Arthur Highway back towards Dunalley. After crossing the Denison Canal, head west towards to take the coastal route to Carlton, a great place to stop for a locally roasted takeaway coffee overlooking the many beautiful beaches. Reaching Forcett, you will return to the Arthur Highway and continue onto the Tasman Highway, carried over the Orielton Lagoon by the Sorrel Causeway. After crossing, you may wish to take a detour to Pitt Water Nature Reserve. For those with a keen interest in birdwatching, this internationally recognised wetland is home to a number of Tasmanian birds including oystercatchers, red-capped plovers, and Caspian terns. From here it is a short 20 minute drive along the Tasman Highway, over the River Derwent and into the city of Hobart.
Explore Hobart
Hobart is Australia's second-oldest state capital, founded in 1804. This city is teeming with inspired art and thriving markets has an exciting and dynamic food scene, and is surrounded by natural beauty. Head to MONA (Museum of Old and New Art) to get your art fix or if you're there on a weekend, head to Salamanca to immerse yourself in the markets, home to more than 300 stalls selling arts, crafts, homewares and produce. The beautiful sandstone warehouses that were once frequented by sailors, whalers, and workmen have morphed into one of the city's most vibrant cultural scenes.
If you fancy a taste of some local beverages, consider heading to one of the local distilleries or breweries. For some of the best views of the city, take a 30 minute drive out to Mount Wellington, which is even more amazing at sunset. With a coffee caravan and Australia's oldest brewery along the way up, it is the perfect activity no matter what the time of day! For those looking for a bit more activity, there are some fantastic walking tracks located below the summit at The Springs.
SUGGESTED ACTIVITY - Hobart Half Day Wine Experience
This experience allows you to enjoy sampling some of Tasmania's best wine and cheese. Departing Hobart the tour travels east across the Tasman Bridge to the Coal Valley wine region – this is one of the largest wine-growing areas in southern Tasmania.
Visit at least four cellar doors from the following: Pooley Wines, Coal Valley Vineyard, Everyman & His Dog, Frogmore Creek Wines, Craigow Vineyard, Nocton Park Vineyard, Riversdale Estate, and Wobbly Boot Vineyard.