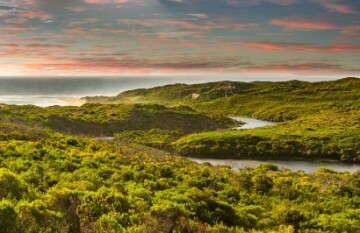 Choose your style of rental vehicle
Our rental car range includes the latest vehicles from the top suppliers. From economy hatchbacks to SUVs, we can help you decide on a car suitable for this leg of your trip. Insurance can often be included with a small excess or deductible.
Perth to Margaret River via Busselton
The journey from Margaret River takes approximately three hours by car. Take the Kwinana Freeway out of Perth, this later becomes Forrest Highway. Head towards Bunbury, then onto Busselton.
Busselton's calm turquoise bay is the perfect place to stretch your legs. Take a walk or train ride over the Indian Ocean on the 1.8km (1.1 mile) long jetty - the longest timber-piled jetty in the southern hemisphere. Visit the Busselton Museum, Old Courthouse or the beautiful St Mary's Church for a taste of what the area was like in the 1800s, and then treat yourself to lunch at one of the many cafes and restaurants before continuing on your drive. Margaret River is just 50km (31 miles) south of Busselton and when you start to see vineyards – you're almost there.
Margaret River is one of Western Australia's most famous wine regions. Over the last 50 years, it has reached internationally-acclaimed status specialising in cabernet sauvignon and chardonnay, with nearly 100 cellar doors to experience.
Margaret River
Margaret River is a town that perfectly encapsulates the surrounding nature, arts, and culture in its very essence. The town itself exudes an indelible buzz with its perfect mix of artisan stores, galleries, street art and diverse bars and restaurants, yet is surrounded by the serenity of tall trees, open ocean, rocky cliffs and undulating plains across which vineyards stretch in every direction. Arguably, the region is best known for its world-renowned wine region and showcases an abundance of award-winning wines and friendly cellar doors. But this isn't the only attraction on offer - the town also has a prominent surf culture and some of the best surf conditions in the world. Home to the Margaret River Pro, Surfers Point is the iconic spot to either catch a wave, or simply grab some fish and chips and watch the spectacular western sunset from the lawn amphitheatre. If you are in town on a Saturday morning, you can't miss the local farmer's market. With a smorgasbord of local produce to choose from, whether you prefer to cook or pack picnic goodies for your day ahead the offerings will be sure to get your tummy grumbling.
SUGGESTED ACTIVITY - Underwater Observatory Tour at the Busselton Jetty
The Underwater Observatory tour starts with a relaxing train ride on the Stocker Preston Express along the length of the Jetty with 360-degree views across Geographe Bay. Descending 8 metres below the ocean's surface, this tour then explores the natural wonders that lie beneath the Jetty where it's piles create Australia's greatest artificial reef host to 300 different marine species with an inspiring forest of vividly-coloured tropical and sub-tropical corals, sponges, fish and invertebrates. 13 underwater Sculptures have been built to form a snorkel trail for everyone to enjoy.