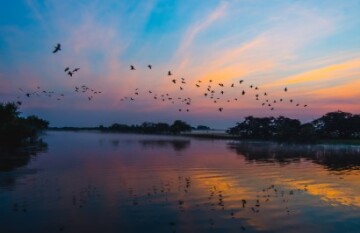 Choose your style of rental vehicle
Our rental car range includes the latest vehicles from the top suppliers. From economy hatchbacks to SUVs, we can help you decide on a car suitable for this leg of your trip. Insurance can often be included with a small excess or deductible.
Darwin to Jabiru via Ubirr and Cahills Crossing
Set off from Darwin eastbound towards Humpty Doo, the home of the Aboriginal Didgeridoo Hut and Art Gallery. If you're interested in learning more about the local culture the local artists at the gallery can teach you about bush food and medicine, weaving, spear throwing, and playing the didgeridoo. Back on the road, keep an eye out for the Big Boxing Crocodile as you travel along the highway. After about 32km, you will reach the town of Wak Wak, where you can join a Spectacular Jumping Crocodile Cruise. Seize the opportunity to get up close and personal with these giant, prehistoric creatures from the safety of your boat. This one hour cruise will take you out on the Adelaide River and entice crocodiles up to 6 metres long to jump.
You may choose to head down the road to the family-run Pudakul Aboriginal Cultural Tours where you will learn about local bush food and medicine, weaving, spear throwing and playing the didgeridoo.
When you are ready, continue travelling east on Arnhem Highway. Mary River National Park is a beautiful wetland reserve located down the road from Wak Wak. Bird lovers will be spoiled with the diversity of species living here and will have plenty of opportunities to spot them while cruising the billabongs. For the anglers out there you can also enjoy world-class fishing, with the opportunity to catch barramundi, getting up to 1.4m in length!
Before arriving in Jabiru, turn left onto Oenpelli Road (towards Gunbalanya) to explore the rock art at Ubirr and Cahills Crossing. This 30 minute drive (one-way) will take you to a parking area right by Cahills Crossing over the East Alligator River. From the 3 viewing platforms you can sit and watch the saltwater crocodiles as they wait to catch mullet and barramundi swimming over the crossing in late dry season. At the East Alligator River Boat Ramp, the Guluyambi Cultural Cruise departs, an educational tour hosted by local guides. During the day, you may catch the guides sitting by the boat ramp painting using traditional methods. Take cash if you wish to purchase one of these incredible pieces!
At Ubirr, a walk up to the Nadab lookout takes you past breathtaking rock art sites dating up to 50,000 years old and is arguably the best location in Kakadu National Park to enjoy the sunset.
Drive back down Oenpelli Road and turn left onto the Arnhem Highway where you will shortly arrive in the township of Jabiru.
Kakadu National Parks Pass
The Kakadu National Parks Pass allows entry to explore ancient sites such as Ubirr, Jim Jim Falls, Burrunkguy and Maguk. You will be required to keep your Kakadu National Parks accessible when within the National Park and produce to Park Rangers upon request.
Kakadu National Park, NT
Covering nearly 20,000 square kilometres, World Heritage-listed Kakadu National Park is Australia's biggest national park, filled with ancient landscapes. Here you will find stunning waterfalls, lush rainforest, spectacular wetlands and swimming pools, and the oldest Indigenous rock art in the world. Although this remote, untouched outback land is just 3 hour's drive from the city of Darwin, you will feel like you are a world away. This treasured region is filled with adventure opportunities, from learning the cultural significance of Australia's most prominent rock art at Ubirr, cruising along Yellow Water Billabong or the East Alligator River, touring to stunning Koolpin Gorge, or walking through monsoon rainforest to reach crystal-clear plunge pools at Maguk, there is an awe-inspiring experience here for everyone. If you prefer to take it easy, the view from Nourlangie at sunset is nothing short of a spiritual experience and one that can't be missed. If you're looking for a unique experience celebrating cultural diversity and community, check out the annual Mahbilil Festival celebrating Kurrung season (late august to early September).
Guluyambi Cultural Cruise
Take a journey on the East Alligator River on the Guluyambi Cruise with a local Aboriginal guide. This provides you with an insight into their culture & local mythology, the river's abundant food chain, traditional uses for many plants & animals as well as bush survival skills. 'Guluyambi' means paperbark raft, however, don't fret, this vessel will safely travel up and down the East Alligator river, revealing the wonderful pristine wilderness of Kakadu National Park. There is also an opportunity to step off the boat into Arnhem Land and witness spear throwing. At the upstream boat ramp where you will embark on the Guluyambi Cruise, there are sometimes local artists painting using traditional methods. If you wish to purchase any pieces of art at the boat ramp, please bring cash as card is not accepted.
SUGGESTED ACTIVITY - Spectacular Jumping Crocodile Cruise
Today, you will cruise a spectacular, untouched river and witness the iconic saltwater crocodile in action. An experienced crew will teach you about the biology and ecology of these creatures and the Adelaide River they inhabit. Onboard a purpose-built vessel, every seat guarantees a perfect view (no glass!) of the river and banks of Djukbinj National Park as you cruise into the wilds of the Northern Territory. With a focus on your safety and sustainable practices, you will have an unforgettable experience.