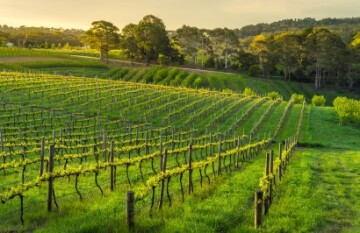 Explore Adelaide
Adelaide is South Australia's cosmopolitan coastal capital. Its ring of parkland on the River Torrens is home to acclaimed museums such as the Art Gallery of South Australia, displaying expansive collections of Indigenous art, and the South Australian Museum, devoted to natural history. The world renowned Barossa Valley and McLaren Vale wine regions are within driving distance, along with stunning beaches, national parks and riverland, making Adelaide an ideal base to experience South Australia's beauty.
Choose your style of rental vehicle
Our rental car range includes the latest vehicles from the top suppliers. From economy hatchbacks to SUVs, we can help you decide on a car suitable for this leg of your trip. Insurance can often be included with a small excess or deductible.
Adelaide to Tanunda, in the Barossa Valley
The Barossa Valley is located about 70km (44 miles) north-east of Adelaide. Leave Adelaide and head north towards Gawler, where you will take the bypass road onto the Sturt Highway. Take in the views of undulating grain fields and when you reach Gomersal Road, take a right and you will begin meandering through the region's boutique wineries and their rolling vineyard scapes as you approach Tanunda, home of the internationally-acclaimed Jacob's Creek wines.
Tanunda
The pretty town is populated with jutting church spires, picturesque wineries, and a selection of cafes and restaurants perfect for people watching. As well as the beautiful backdrop, there is also plenty to see and do in Tanunda, who's name derives from the Aboriginal word meaning "water hole". It is a large rural settlement with leafy streets and is totally circumscribed by vineyards. No matter which way you look there is one at the end of the street. Is the perfect destination for families! While our Barossa region may be renowned around the world for our grape growing and winemaking, but there is a whole world of adventure to discover in our beautiful region for the young and young at heart.
Barossa Sculpture Park - suggestion
Barossa Sculpture Park is located at the base of Mengler Hill Lookout. You will have nice views of the sweeping landscape of rustic vineyards, wineries, and traditional farm houses. Art lovers will enjoy a collection of interesting sculptures created by local as well as international sculptors. Dating back to 1988, the sculptures were originally created as part of the Barossa International Sculpture Symposium, and they can now be seen for free against a backdrop of rolling hills. The artists lived alongside local residents to capture a better taste of the Barossa Valley and its spirit in the artwork. You can wander around the trail, admire the sculptures made from local marble and granite, or have a picnic on one of the grassy spots that surround the hills and the lookout area.