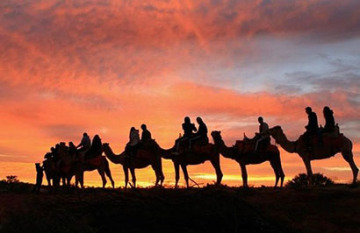 SUGGESTED ACTIVITY - Desert Awakenings Breakfast Voyages Indigenous Tourism
Experience the tranquillity of the pre-dawn land under a canopy of stars. Watch the amazing transformation of colours and life as the desert awakens with Uluru and Kata Tjuta as your backdrop. In the company of your expert guide, Desert Awakenings is designed to introduce you to the natural and cultural landscapes of this remarkable region.
Bush Food Experience - suggestion
Learn about Australian and local bush tucker and how for many centuries local Indigenous groups would hunt, gather and prepare these bush foods. This will be followed by a fun cooking demonstration utilising a flavoursome Indigenous ingredient that you can try at home.
Bush Yarns cultural activity - suggestion
Listen to the stories of Aboriginal culture and tradition where you will be shown men's weapons that were used for hunting or
women's tools and techniques to gather bush tucker in the central desert. These sessions will also provide an opportunity to learn
aspects about the local Pitjantjatjara language.
Didgeridoo Workshop - suggestion
Listen to the enchanting sounds of the didgeridoo. Yidaki, the traditional Aboriginal term for the didgeridoo, was discovered in East Arnhem Land in the Northern Territory of Australia. During this workshop, guests are invited to try and play the didgeridoo.
SUGGESTED ACTIVITY - Uluru and Kata Tjuta Scenic Flight with Ayers Rock Helicopters
Today you will be picked up from your accommodation in Yulara and driven in air-conditioned comfort the helipad. On this flight you will not only be taken over the awe-inspiring Uluru, but also across to the spectacular domes of Kata Tjuta. These are sacred indigenous sites, much of which cannot be accessed from the ground. Taking to the air to see these amazing formations from above is the best way to appreciate them in their entirety and feel their spiritual energy.
Sunset Camel Experience
Travel for one hour on friendly camels in the spectacular desert landscape. Bringing you closer to nature, the skilled cameleers share stories of the Territory.
Enjoy stunning views of Uluru and Kata Tjuta as you watch the colour change while the sun sets from atop a sand dune. Return to the farm at twilight to relax and enjoy Australian beer, wine, champagne and outback bush foods including their famous freshly baked beer bread damper.